This month's article in Turbomachinery International Magazine highlights a number of ways in which Sundyne's pumps & compressors are helping to minimize the environmental impact of power generation and transportation applications.
Compressing Hydrogen for Industrial and Mobility usages:
When electrolyzers separate hydrogen molecules from water, the hydrogen is produced at about 20 bar. It needs to be compressed for storage, transportation and distribution. The H2-powered busses and large industrial vehicles that run on hydrogen are rated for 350 and 500 bar. Sundyne's PPI compressors are used to boost Hydrogen pressures up to the level required by these applications.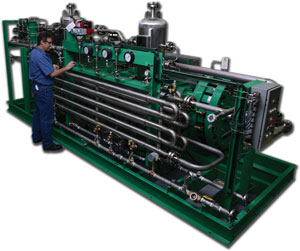 Di-hydrogen is one of the smallest molecules on the planet, weighing no more than 2.02 grams per mole (whereas ambient air is close to 29 g/mole). The amount of work required to compress H2 from 20 bar to 500 bar is high – and this is one of the areas where Sundyne's PPI compressors excel. They've been specifically designed to compress hydrogen, and Sundyne has learned much over the last 20 years serving this market in Europe, Asia and the Americas.
Suppressing NOx in Power Generation:
Nitrogen Oxides (NOx) are a family of poisonous, highly reactive gases that form when fuel is burned at high temperatures. Sunflo pumps are used in gas-fueled power plants to suppress NOx via high pressure water injections. In gas-fired power plants, thermal NOx formation occurs at high flame temperatures, and it increases exponentially with combustion temperature. One simple way to reduce NOx formation is to lower flame temperatures by injecting demineralized water (at high pressure) into the flame. In addition to lowering temperature, this also reduces local oxygen concentration and decreases the formation of thermal and fuel-bound NOx.
Sunflo Pumps are specifically designed for high pressure applications and they work well with any type of turbine (up to the latest class H or J). The Sunflo P-3000 pumps feature single-stage designs, with optimized suction inducer technology that address low NPSH requirements in a way that eliminates pump cavitation. They also featured high-pressure impeller technology that is optimized to deliver high head, while withstanding a wide variety of upset conditions.